Setting Up minikube GUI
Overview
This guide will show you how to setup the minikube GUI
WARNING! This GUI is a prototype and therefore may be unstable or contain bugs. Please use at your own risk, we are not responsible for damages.
If you experience any bugs or have suggestions to improve the GUI feel free to create a GitHub Issue.
Please note that the SSH functionality currently only works on Linux.
Before You Begin
minikube setup and available on your path, follow the Getting Start doc if not already done
Steps
Download the zipped folder
curl -LO https://storage.googleapis.com/minikube-gui/nightly/minikube-gui-mac.zip

Unzip
unzip minikube-gui-mac.zip

Open the application
If you see the following, click cancel.
Open System Preferences and go to Security & Privacy -> General and click "Open Anyway".
Download the zipped folder via PowerShell (below) or via your browser (faster)
Invoke-WebRequest -Uri 

'https://storage.googleapis.com/minikube-gui/nightly/minikube-gui-windows.zip'

 -UseBasicParsing

Unzip
Expand-Archive minikube-gui-windows.zip

Open the application
.

\m

inikube-gui-windows

\d

ist

\m

inikube.exe

If you see the following, click More info and then Run anyway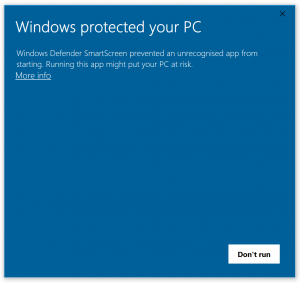 Download the zipped folder
curl -LO https://storage.googleapis.com/minikube-gui/nightly/minikube-gui-linux.zip

Unzip
unzip minikube-gui-linux.zip

Open the application